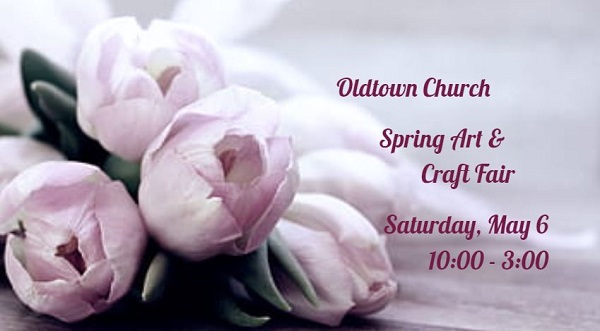 Oldtown Church is excited to announce the return of our Craft Fairs. Our Spring Art & Craft Fair is perfect for your Mother's Day and Graduation presents, as well as freshening up your home and garden.
Join us on Saturday, May 6th, from 10am-3pm, both inside the church and on the side lawn. Shop a selection of handmade gifts and crafts created by many local, talented crafters.
In addition to your shopping, we will have a raffle and light luncheon available. This event takes place rain or shine. We look forward to seeing you there.
There is plenty of parking in the church parking lot and on the street. We look forward to seeing you there. The upstairs is accessible through the ramp on the side of the church. There is an accessible entrance to the downstairs around the back.
ALL ARE WELCOME