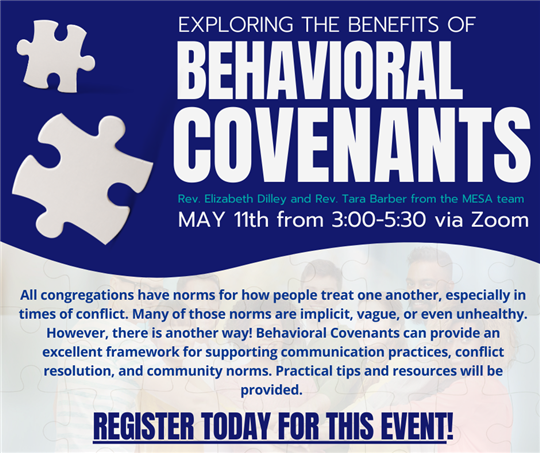 Join Rev. Elizabeth Dilley and Rev. Tara Barber from the Ministerial Excellence, Support, and Authorization (MESA) team for the United Church of Christ. Join as they host a conversation on developing and implementing behavioral covenants with congregations. This event is offered at no cost to authorized ministers and congregations through Proportional Giving.
All congregations have norms for how people treat one another, especially in times of conflict. Many of those norms are implicit, vague, or even unhealthy. However, there is another way! Behavioral Covenants can provide an excellent framework for supporting communication practices, conflict resolution, and community norms. Developing such covenants within communities can help members and staff alike name best community practices and express their hopes for how congregations function as a Christian community. Practical tips and resources will be provided.
This session will complement the February Lunch & Learn session on Exploring the Benefits of Behavioral Covenants, but can also be considered a stand-alone event. Prior attendance at the February session is not required.    
This program is presented by the Center for Transformational Leadership (CTL) of the Southern New England Conference of the United Church of Christ (SNEUCC) as part of the "Lunch & Learn for Leaders" series. These programs are all created in response to the challenges and concerns identified by our clergy and lay leaders. While these resources offer many solutions to problems, they also reveal opportunities to be realized. Rather than ask, "How are we going to …..?" (you fill in the blank – eliminate this internal conflict; become financially sustainable; grow our membership), consider asking the question, "What might happen if…..?" (we focus on creating a new vision for the future; reimagine how we use our buildings; increase our community engagement).
 
The Center for Transformational Leadership is able to offer these programs largely because of our churches' financial support expressed through Proportional Giving. The CTL is here to help your congregation not just survive, but to thrive!