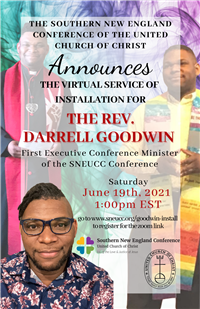 Join us online on June 19th at 1:00 p.m. for the installation of the Rev. Darrell Goodwin as the first Executive Conference Minister of the Southern New England Conference. Faith Congregational Church in Hartford will be our virtual host for Rev. Goodwin's installation.
The Rev. Goodwin, who began serving on Jan. 1, is the first openly LGBT black person to serve as an Executive Conference Minister in the United Church of Christ. Join us for this historic event, fittingly on what could possibly be the first celebration of the newest U.S. Federal Holiday – Juneteenth National Independence Day! As the Chief Vision-Keeper, he is responsible for guiding the conference and its affiliates to have a positive and lasting impact in our world
The Rev. Traci Blackmon, Associate General Minister for Justice and Local Church Ministries for the United Church of Christ, will preach at this installation.
Register to receive a Zoom link, or you can watch on Facebook Live (no registration needed).