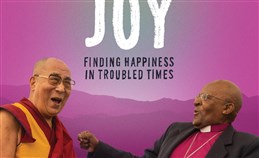 The Eden Theological Seminary and the Interfaith Partnership of St. Louis present a screening of "Mission:JOY, Finding Happiness in Troubled Times" this weekend from 1:01 AM Friday, Feb. 4 until 12:59 PM ET Sunday, Feb. 6.
Please sign up here. The link and passcode will be provided just ahead of the link going live at 1:01 AM Friday ET.
Deeply moving and laugh-out-loud funny, Mission: JOY is a documentary with unprecedented access to the unlikely friendship of two international icons who transcend religion: His Holiness the Dalai Lama and Archbishop Tutu. In their final joint mission, these self-described mischievous brothers give a master class in how to create joy in a world that was never easy for them. They offer neuroscience-backed wisdom to help each of us live with more joy, despite circumstances.
Inspired by New York Times bestseller The Book of Joy: Lasting Happiness in a Changing World, the film showcases the exchange between these two Nobel Peace Prize winners that led to that book.