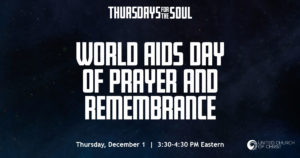 On Thursday, November 1, at 3:30 PM, the UCC presents a free online webinar celebrating World Aids Day of Prayer and Remembrance. In 1988, December 1st was declared to be World AIDS Day, a day to remember those living with HIV/AIDS, honor those who have died, and raise awareness around prevention and testing. Globally, there are more than 38 million people living with the disease, while another 40 million have died since the first diagnosis in 1981. Despite great strides in treatment, HIV/AIDS still claims as many as 860,000 lives per year.
Please join UCC and ecumenical leaders as Thursdays for the Soul presents a World AIDS Day of Prayer and Remembrance.
This free online webinar is presented by the United Church of Christ as part of its "Thursdays for the Soul" series.