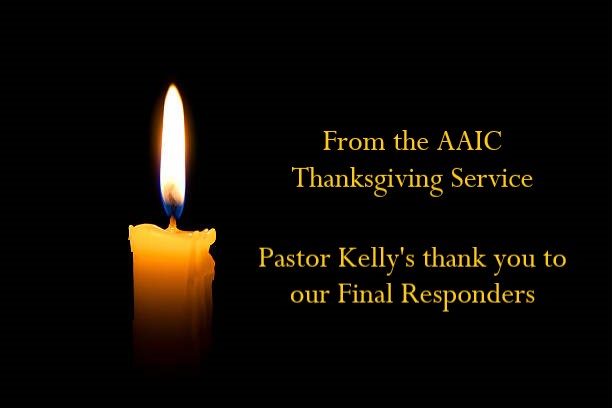 Thanksgiving Service
Attleboro Area Interfaith Collaborative
November 21, 2021
Rev. Kelly Thibeault
"Even though I walk through the valley of the shadow of death, I will fear no evil, for you are with me; your rod and your staff they comfort me.

Psalm 23:4 (NRSV)
Friends, I bring you greetings from the First Congregational Church, also known as the "Oldtown Church," in North Attleboro. But just to clarify, the story that I bring to you today, is a personal one.
I wonder, have you ever found yourself in the midst of a storm, when the wind is blowing, the rain is falling, you hear cracks of thunder outside and suddenly the power goes out and it is all dark? Many of us experienced that just last week! Now if you are lucky, in moments like that, you find a match to light a candle, and as you strike it, that single match brings light to the once dark room. One single match. Can you imagine?
Now we usually have lights all around our homes, from lamps and ceiling lights to televisions, computer screens, and digital clocks. So, when the power goes out, we experience a total darkness that we don't often see. But when there is total darkness, the light of one simple match can bring us comfort and assurance like no other.
Many of us have experienced darkness in our lives over the past twenty months, whether it came from stress or loneliness, illness or grief, worry or anxiety, or fear of the unknown. And there have been countless flashlights and matches and candles that have come to light the way for us. There have been first responders and essential workers, and neighbors, and family, and friends that have reached out with a kind word, a note, a zoom call, a warm casserole, or a life-saving action. And this Thanksgiving, I give thanks for each and every one of them.
But Rev. Bert asked each of us to choose one first responder to thank. Now I don't know if you have been to the Oldtown Church before, or if you have worked with me personally or heard me speak at other events, but I don't always follow the rules very well. Please know that I don't do it to be disrespectful or to cause a ruckus of any kind, but I believe that God has placed individual gifts and passions within each of us and that we are not called to be exactly the same. To be honest, that is the gift of the Attleboro Area Interfaith Collaborative. We all come from our own traditions, with our own passions and ideas, sharing the gifts that we've been given, as we work together to nourish, bless, and strengthen our community.
Well, friends, last January, I found myself in a time of darkness. My dad had been struggling with health issues for quite some time. And due to a surgery over the summer and an infection that ensued, even with medications and doctors doing all that they could, he continued to get weaker and weaker.
Finally, we knew that his body was too tired. My mom and I continually called the doctors, who were understandably busy beyond measure with other patients! Our calls were transferred, our assessments were questioned, and we were told that they could squeeze us in for a virtual appointment in two weeks.
We knew that we didn't have that much time. Because of the pandemic, we couldn't just walk into his doctor's office and demand an appointment. So my mom and I spent hours on the phone, telling my dad's story over and over again, longing for a glimmer of light in the darkness.
Finally, the permission we were longing for was granted, and my dad entered hospice. Can you imagine, being relieved to enter hospice? Well, when Gail Robey, the hospice nurse, arrived, the light that she brought brightened our entire house! For four and a half days, we had the beautiful and amazing light of hospice in our home, and rather than fighting on the phone, we were allowed to spend quality with my dad. Four and a half days later, when he passed away, you might imagine that the darkness would return, and it would become even darker. But the light didn't end there because then, Michael and Tim from Dyer Lake Funeral Home came and took care of every detail for us. Was it easy, during the pandemic, to lose a loved one? No. Is it ever easy to lose a loved one? Definitely not.
So, this Thanksgiving, in addition to giving thanks for first responders and essential workers and neighbors and family and friends, I want to give a special thanks to final and last responders, those being hospice staff and funeral workers. Because though we don't hear a lot of praise for the work that they do, they shine a beautiful and sacred light into the darkest corners of our community. For, as Psalm 23:4 states, "Even though I walk through the valley of the shadow of death, I will fear no evil, for you are with me; your rod and your staff they comfort me."
Amen.