The Inescapable God
To the leader. Of David. A Psalm.
O Lord, you have searched me and known me.
You know when I sit down and when I rise up;
you discern my thoughts from far away.
You search out my path and my lying down,
and are acquainted with all my ways.
Even before a word is on my tongue,
O Lord, you know it completely.
You hem me in, behind and before,
and lay your hand upon me.
Such knowledge is too wonderful for me;
it is so high that I cannot attain it.
Where can I go from your spirit?
Or where can I flee from your presence?
If I ascend to heaven, you are there;
if I make my bed in Sheol, you are there.
If I take the wings of the morning
and settle at the farthest limits of the sea,
even there your hand shall lead me,
and your right hand shall hold me fast.
If I say, "Surely the darkness shall cover me,
and the light around me become night,"
even the darkness is not dark to you;
the night is as bright as the day,
for darkness is as light to you.
For it was you who formed my inward parts;
you knit me together in my mother's womb.
I praise you, for I am fearfully and wonderfully made.
Wonderful are your works;
that I know very well.

Psalm 139:1-14 (NRSV)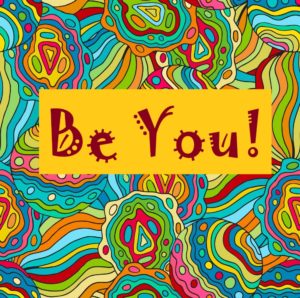 During the height of the pandemic, when our church building was closed, we had several videos online each week. There was our full worship service–with prayer, music, scripture, and the weekly message–our Oldtown Shorts–which were and still are simply the message for the week–and our Household Huddle videos–which were videos to keep families connected, giving them ways to talk about and interact with the week's story. All of our videos are still on our YouTube Channel if you ever want to go back and watch them.
Well, each week the Household Huddle videos ended with the following phrases: "I hope you enjoy your Household Huddles this week and remember: Household Huddle can happen anytime and anywhere! So just be creative! But no matter where you are or what you are doing, remember that you are amazing! And don't ever forget that God loves you just the way you are, and so do I!"
Now those may sound like simple words and phrases, but I believe that they are important words for all of us to hear on a regular basis! Because sometimes life gets busy and we forget that we can experience and live out our faith anytime and anywhere. We also forget how amazing we are! We forget that each of us is created in the image of God, and sometimes when we are really busy or tired or unsure of ourselves, we let the words and opinions of others dampen our spirits and stop us from truly being who God created us to be.
Now I don't know if you have ever seen the movie "Happy Feet," but it is a movie about an emperor penguin named Mumble. Well, Mumble looks different than all of the other penguins, and while all of the penguins have the ability to sing beautiful songs, Mumble can't sing a note. But, he can dance! Boy, can he dance! Now, most of the penguins look down on Mumble because he looks and acts so differently. Mumble begins to think that he is no good and that he doesn't belong. You see, in the movie, every Penguin sings a unique song called their "heart song." It is the song in their heart that tells them who they really, truly are. Well, Mumble can't sing, but eventually, he finds his song, and rather than singing, his song makes him dance! And he dances and dances and dances!
Well, on the day that I was ordained, one of my mentors, knowing that I loved the movie Happy Feet, reminded me to always remember my heart song. She reminded me that I don't need to be just like everyone else; I just need to be who God created me to be because that is how I can share the most love and joy and make the most difference in the world. Now, I have to be honest: some days it's easy. I just sing and dance to my heart song. I try my best to listen to what God calls me to do, and I allow the Holy Spirit to guide me. But other days, I wonder if I'm good enough, or if I should be more like the other ministers in the other churches. Should I be more formal or more authoritative? Should my sermons be longer, or should they dig deeper into theology or the Bible? Should I preach without notes, or should I be more organized in my planning? The questions become endless!
But then I remember that my heart song tells me to follow my own arrow. To be humble and kind. And to remind each and every person that I meet that they are loved, just the way they are. And when I remember that, it feels like everything is going to be okay.
Friends, all of us together make up the Body of Christ. And it's our own unique personalities, appearances, opinions, beliefs, and gifts that make for a stronger, broader, wider, not divided but diverse, family of God!
In the book of Psalms, Psalm 139 reminds us that God never leaves us, that no matter where we go or what we do, God is always there. Because God's grace and God's unconditional love for us is not a reward for our actions. Did you hear that? God's grace and God's unconditional love for us is not a reward for something that we have done, but instead, it is simply the way that God works! And folks, that is so important for us to understand because our job is not to please God by our perfect behavior or by trying to be something or someone that we are not. It is NOT our job to be like everyone else and to fit in. But instead, our job is to live our lives to the best of our ability as the person that God has created us to be with all of our unique and quirky ways.
You see, there is a reason why we were not all created exactly the same. There is a
reason why we don't all look the same and act the same–because God has given us
different gifts and graces to care for God's wonderful creation and for one another. And through our differences, we are all able to complement each other and to bring forth a more welcoming and wonderful world.
I'm also a strong believer that each of us carries a light within us, and when we are truly being who God calls us to be, that light inside of us shines for the world to see. So friends, in the week ahead, don't let the world tell you who or what you should be. Stand firm in your faith. Listen to your heart and simply BE YOU! Because that is exactly what the world needs.