Jesus Calls Levi
Jesus went out again beside the sea; the whole crowd gathered around him, and he taught them. As he was walking along, he saw Levi son of Alphaeus sitting at the tax-collection station, and he said to him, "Follow me." And he got up and followed him.

And as he sat at dinner in Levi's house, many tax collectors and sinners were also sitting with Jesus and his disciples, for there were many who followed him. When the scribes of the Pharisees saw that he was eating with sinners and tax collectors, they said to his disciples, "Why does he eat with tax collectors and sinners?" When Jesus heard this, he said to them, "Those who are well have no need of a physician but those who are sick; I have not come to call the righteous but sinners."

Mark 2:13-17 (NRSVUE)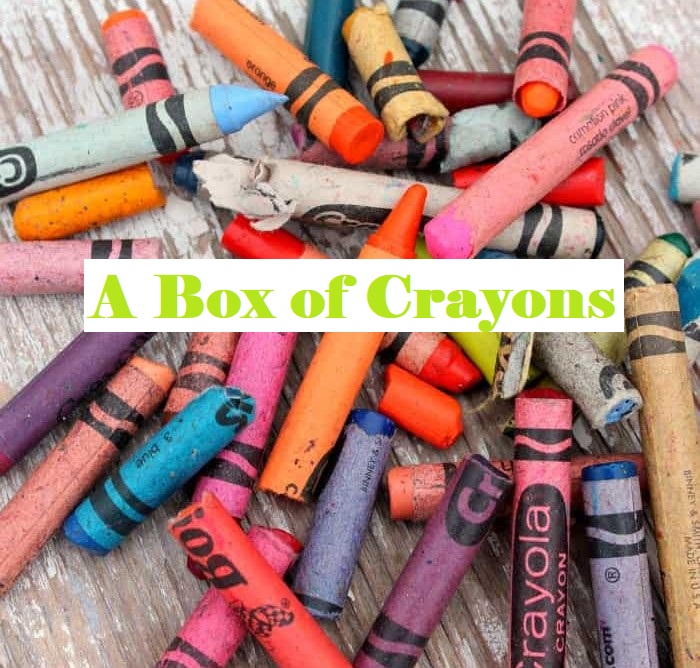 There is nothing like a brand-new box of crayons. I remember as a kid, the dream was getting a Crayola box of sixty-four colors with the crayon sharpener built in the back! I can still remember the smell as I cracked open the box for the first time, to find each crayon standing at attention, in just the right order. It was perfection! Immediately, the creative juices began to flow, as I started to imagine the amazing works of art that I would create. As I removed the first crayon, I was always careful to keep the spot open for its proper return. And I colored gently, not pressing down too hard on one side, or coloring too much with one crayon. Though within no time, some crayons, in the box–usually the blue from coloring the sky or the red from making too many hearts or drawing too many houses (after all, houses were always red!)–would lose their point, appearing shorter than the others.
I was always excited that the box of sixty-four crayons had a crayon sharpener in the back because I knew deep in my heart that it would help the crayons that were worn look brand new again. It was like the newest technology in crayon maintenance. But no matter how many boxes of sixty-four Crayola crayons with the built-in sharpener in the back that I had over the years, the crayon sharpener never quite lived up to its expectation. Rather than bringing back the perfect point that the crayons came with, the sharpener quickly became a graveyard of broken-off pieces that you could only get back out with a toothpick.
Within no time, my perfect box of sixty-four Crayola crayons became a hospital of broken, peeled, and misfit pieces. It contained a myriad of different sizes and conditions of crayons. Now there were still a few perfect ones in colors that I didn't usually use like maybe burnt sienna or army green, but the majority of the crayons, where they had once had a perfect point, were now rounded at the top, and their paper was peeled. Some were broken, or worse yet, cracked inside and only being held together by their paper sleeve. I would try to color as carefully as I could with those, to preserve their fragileness.
But even though the box of crayons was far from perfect, I still loved it, and even in its disrepair, it continued to help me to imagine and create amazing things. But rather than feeling proud and looking down judgmentally on the broken crayons my friends had, my role suddenly changed, from critic to caregiver, as I did my best to find the gifts that were hidden within the broken pieces of the box of crayons that still had.
Friends, we often look and long for perfection, don't we? We think that the brand-new perfect box of crayons is going to somehow make our life better and create more beautiful pictures. When the truth is, broken crayons still color too!
If you think about it for a minute, many churches are like boxes of sixty-four Crayola crayons with built-in sharpeners. At first glance, when you open the box or the door, it may look like everyone, and everything is perfect. People are wearing their Sunday best, sitting up straight in their pews. They are very respectful and kind. They are carefully performing special rituals and reading fancy liturgies. And some of the people in those churches may be like people with brand new boxes of crayons, looking down their noses at others, being more of a critic than a caregiver because they see their perfect church as a museum for saints, a place where everyone and everything is flawless and picture-perfect. But is that really what churches are about? Is that really what Jesus calls us to be and do?
In our scripture reading today from the gospel of Mark, Jesus invites a man named Levi to follow him. The only problem was, Levi was a tax collector, and tax collectors were hated by the Jews in Israel. Under Roman rule, the Jews of Jesus' day paid a religious tax to the Jewish authorities for the maintenance of the temple. They also paid a tax to the Roman government, a tax that was often collected by Jewish tax collectors in unkind ways. The Roman tax included income taxes and taxes on traded goods. It also included tolls for the use of roads and bridges and to enter towns. All totaled, Jews in Jesus' day, paid between thirty and forty percent of their income in taxes. Now though Levi was Jewish himself, he worked for the Roman Empire collecting taxes from his own people. So, you can imagine what they thought of him.
In today's scripture reading, we hear about Jesus first inviting Levi to follow him and then eating dinner at Levi's house with lots of other tax collectors and sinners. Scripture says: When the scribes of the Pharisees saw that Jesus was eating with sinners and tax collectors, they said to his disciples, "Why does he eat with tax collectors and sinners?" When Jesus heard this, he said to them, "Those who are well have no need of a physician but those who are sick; I have not come to call the righteous but sinners."
I find those words comforting because they remind me that Jesus welcomes all, even me! Jesus doesn't judge us for what we have done, or where we have been, but instead, he invites us to journey with him down new paths of unimaginable possibility.
I imagine, that if Jesus were ever given a box of crayons, he would not look for the crayons that were standing tall in exactly the right spot. But on the contrary, he would kneel down and gently pick up the broken ones, the ones with peeling paper and rounded tops, the ones that fall sideways in the box and who are cracked beneath their paper sleeves. I imagine that He would collect the pieces from the sharpener in the back of the box and search the floor for the crayons that were mistakenly dropped. Not being a critic but caring for them and loving them just the same.
As Jesus said: "Those who are well have no need of a physician but those who are sick; I have not come to call the righteous but sinners." That is why, my friends, the church is meant to be a hospital for the broken, not a museum for saints. It is our job AS the church to welcome everyone providing a safe space in this crazy world. Allowing people to breathe and to rest and to know what it feels like to be loved, just the way they are.
As some of you may know, I have been taking a class for the last few months to become a certified Grief Educator. Because we all experience grief in different ways. Sometimes we experience grief because of the death of a friend, a pet, or a loved one. Sometimes we experience grief through a divorce or the loss of a job. Sometimes we face grief when we move to a new location, when a relationship ends, or a child goes off to college. Grief can be experienced with any kind of life change.
But this week in class, I heard a quote that resonated with me. I think it is often something we do here in the church without realizing it. If the church is a place where broken people or people struggling with something come, besides offering a safe place to breathe and to rest, and to know what it feels like to be loved just the way you are, we sometimes think that it's our job to fix or to save them. And we often offer advice without permission. But what I learned this week in class is that advice without permission is criticism. Did you hear that? Advice without permission is criticism. So though we may sometimes think we are helping by offering advice, we may not be.
I also read a poem by a man named John Roedel this week that speaks to a similar situation:
when somebody falls apart
don't try to put them back
together in your image
in fact, don't try
to reassemble them at all
that's not your job
instead – lay on the ground with them
and scoop as many of their broken
pieces into your hands as you can
and every now and then whisper to
those pieces "This is not forever."
that's your job!
Friends, here in Oldtown, I am so glad that you add your "special color" to our crayon box! Whether you still have a perfect point, or you are broken, worn down, or even in the midst of a "meltdown," know that YOU are an amazing gift to our box of crayons and our community of faith. Because though we may be an old box of broken, peeled, and misfit pieces of crayons, we wouldn't be able to create the beauty and comfort that Oldtown is without the gift that is you!
So, brothers and sisters in Christ, as you go out into your busy week ahead, don't worry about being perfect. Just be who you are. And don't be a critic–be a caregiver, not trying to fix and save but simply helping others to hold their broken pieces for a little while, remembering that if given a chance, broken crayons CAN still make amazingly beautiful pictures.
My friends, may it be so. Thanks be to God, amen!