For the Lord your God is bringing you into a good land, a land with flowing streams, with springs and underground waters welling up in valleys and hills, a land of wheat and barley, of vines and fig trees and pomegranates, a land of olive trees and honey, a land where you may eat bread without scarcity, where you will lack nothing, a land whose stones are iron and from whose hills you may mine copper. You shall eat your fill and bless the Lord your God for the good land that he has given you.

Take care that you do not forget the Lord your God, by failing to keep his commandments, his ordinances, and his statutes, which I am commanding you today. When you have eaten your fill and have built fine houses and live in them, and when your herds and flocks have multiplied, and your silver and gold is multiplied, and all that you have is multiplied, then do not exalt yourself, forgetting the Lord your God, who brought you out of the land of Egypt, out of the house of slavery, who led you through the great and terrible wilderness, an arid wasteland with poisonous snakes and scorpions. He made water flow for you from flint rock, and fed you in the wilderness with manna that your ancestors did not know, to humble you and to test you, and in the end to do you good. Do not say to yourself, "My power and the might of my own hand have gotten me this wealth." But remember the Lord your God, for it is he who gives you power to get wealth, so that he may confirm his covenant that he swore to your ancestors, as he is doing today.

Deuteronomy 8:7-18 (NRSV)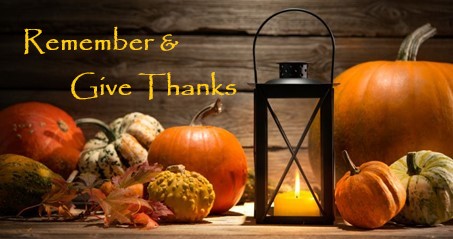 I wonder, if I asked you to share a complaint or something that you are unhappy about right now, how quickly would one come to mind? For many of us, it wouldn't take long to come up with a whole list of things that we are unhappy with, right? Changes we don't like. Things we don't want to do or frustrations we have. Sometimes it feels as though the world is living under a cloud of negativity, hurt, and unrest, doesn't it? We see it on the news and experience it in our own lives. People seem to thrive on conflict, putting others down and needing to get their own way.
Sure, we've all been through a lot and things still don't feel normal. But folks, think about how far we have come! I want to share a piece of last year's Thanksgiving sermon with you, as a reminder of where we were a year ago.
"Friends, this week we will be celebrating Thanksgiving. I know that it is going to look and feel very different for most of us, but the truth is our Thanksgiving holiday is not about having a picture-perfect meal. It's not about the way we have always done it before. It's not about football games and parades and large gatherings. Sure, that's what we have made it over the years. And that's what it has become in our minds. But what if this year, when those things can't happen, we think about thanksgiving a little differently, and rather than focusing on what we don't have and what we can't do and who we can't gather with, we remember what the holiday is really about. Friends, I hope, and I pray that at this time next year we are back to our gatherings. I hope we can worship in person in our beloved sanctuary and gather around the dinner table with family and friends. I hope we can go to parties and football games, go out to eat in restaurants and attend celebrations. But this year, let's make good choices, and rather than being mad or sad or frustrated that we can't have what we want and do what we normally do, let's remember all the things that we are thankful for."
Friends, when we think back to where we were last year, worshipping online, and unable to gather, even with family, and then we think about where we are now, why aren't we celebrating? Why aren't we living lives of gratitude and praising God with all that we've got? I know things are far from perfect, but we have come so far! Have we forgotten? Or do we just always want more? Will we ever pop our heads above this cloud of negativity, hurt, and unrest, or is this where we will always be?
Recently, I can't help but think of the story of Moses and how he led the Israelites for forty years through the wilderness before they finally reached the promised land. I find it interesting that while we often focus on giving thanks for the gifts we have been given and looking for the good in each moment, the Bible often takes a different approach to thanksgiving. Rather than insisting on thankfulness, scripture instead commands us to remember. The Book of Deuteronomy is all about remembering.
"Remember that you were a slave in the land of Egypt, and God brought you out with a mighty hand and an outstretched arm."
"Remember what God did to Pharaoh and to all Egypt."
"Remember the long way that God has led you these forty years in the wilderness."
"Remember and do not forget how you provoked God to wrath in the wilderness."
"Remember the days of old, consider the years long past; ask your father, and he will inform you; your elders, and they will tell you."
My friends, the book of Deuteronomy assumes that without remembering what God has done, there is no thanksgiving for what God is doing. Without remembering where God has led us, we can in no way thank God for how far we've come. So, remembering is the key! But remembering can be difficult and even painful sometimes. That is why many times, it is easier to simply forget.
Just before entering the Promised Land, Moses reminded his people where they had been. He said:
"God is about to bring you into a good land, a land with brooks and rivers, springs and lakes, streams out of the hills and through the valleys. It's a land of wheat and barley, of vines and figs and pomegranates, of olives, oil, and honey."
But Moses also warned them
"Make sure that when you eat and are satisfied, build pleasant houses and settle in, see your herds and flocks flourish and have more and more money come in, make sure you don't become so full of yourself and your things that you forget about GOD, the God who delivered you from Egyptian slavery; the God who led you through that huge and fearsome wilderness, the God who gave you water gushing from hard rock; the God who gave you manna to eat in the wilderness. If you start thinking to yourselves, 'I did all this. And all by myself. It's all mine!' well, think again. Remember that GOD, gave you the strength and the ability to do it."
You see my friends, Moses never said that it is bad to live in a fine house. He never said that it is bad for your herds and flocks to multiply or for you to be successful. He simply said, don't think that it is all about you, and your ability. Remember that it is God's doing. Remember that God has blessed you so that you might be a blessing to others.
Friends, we have not returned to normal. Our church is not running as smoothly as it once was, and there are programs, events, and experiences that we all miss. But rather than sitting and complaining or being frustrated and sad, we need to stretch ourselves to look above the clouds of negativity and remember where we have been and who and whose we are. Then we need to work together! Not complaining about what we don't have and what we can't do, or what is different and what we don't like. But instead putting our pride and our opinions and our judgements aside, and truly listening for the voice of our still speaking God as we journey forward into the future together.
So, friends, as we gather around the dinner table with our families this week thinking about the blessings in our lives and the things that we are thankful for, let us also take some time to remember. Remembering the paths, we have walked. Remembering the difficulties we have faced. Remembering the gifts we have received. And though things may not be exactly the way we want them to be right now, remembering that we are truly blessed and that the possibilities are endless. Not because of us, but because of the one who created us.
My friends, may it be so. Thanks be to God! Amen!