In days to come
the mountain of the Lord's house
shall be established as the highest of the mountains,
and shall be raised above the hills;
all the nations shall stream to it.
Many peoples shall come and say,
"Come, let us go up to the mountain of the Lord,
to the house of the God of Jacob;
that he may teach us his ways
and that we may walk in his paths."
For out of Zion shall go forth instruction,
and the word of the Lord from Jerusalem.
He shall judge between the nations,
and shall arbitrate for many peoples;
they shall beat their swords into plowshares,
and their spears into pruning hooks;
nation shall not lift up sword against nation,
neither shall they learn war any more.
~ Isaiah 2:2-4 (NRSV)
The people who walked in darkness
have seen a great light;
those who lived in a land of deep darkness—
on them light has shined.

For a child has been born for us,
a son given to us;
authority rests upon his shoulders;
and he is named
Wonderful Counselor, Mighty God,
Everlasting Father, Prince of Peace.
His authority shall grow continually,
and there shall be endless peace
for the throne of David and his kingdom.
He will establish and uphold it
with justice and with righteousness
from this time onward and forevermore.
The zeal of the Lord of hosts will do this.
~ Isaiah 9:2,6-7 (NRSV)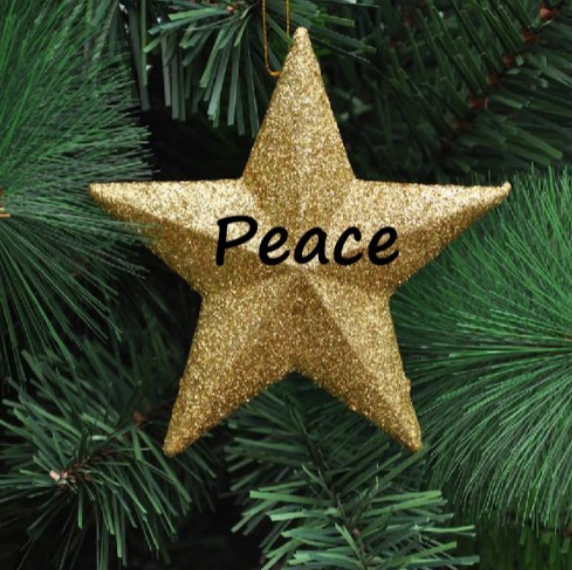 We hear the song "Silent Night," and we like to think about Mary and Joseph and how simple and still and joy-filled that first Christmas was. But friends, it was actually just the opposite. There was struggle, and there was exhaustion. For Mary and Joseph had to travel eighty miles from Nazareth to Bethlehem to take part in the census. It was crowded and noisy, and as we all know, when they got to Bethlehem,  there was no room for them in the inn. Throughout the entire journey, Mary and Joseph were surrounded with judgment and frustration, fear and stress. Mary was an unwed teenager expecting a baby, not quite the calm and bright silent night that we sing about.
But Mary and Joseph knew that this baby, though coming into the world in an unexpected and humble way, would bring a sense of peace. That's why he is given so many names like Wonderful Counselor, Mighty God, Everlasting Father, Prince of Peace. And one thing that our faith has taught us since that night in Bethlehem so long ago is that experiencing peace and finding a silent night that calm and bright is a choice.
Folks, we can choose to focus on our struggles. We can continue to have our feelings hurt and argue about petty things. We can focus on the things that are broken and the ways that we wish our lives and the church and the world could be, or we can open our hearts to the peace within us. The peace that our faith gives us. The peace that is always within us no matter what is happening in the news or in the world around us.
I know that I shared this story with you years ago, but I think it is one that bears repeating because it reminds us of what true peace is like. It's a story about an artist who was commissioned by a wealthy man to paint a picture of peace. After a great deal of thought, the artist painted a beautiful country scene. There were green fields with cows standing in them, birds were flying in the blue sky, and a lovely little village lay in a distant valley. The artist gave the picture to the man, but there was a look of disappointment on the man's face. The man said to the artist, "This isn't a picture of true peace. It just isn't right. Go back and try again."
The artist went back to his studio, thought for several hours about peace, then went to his canvas and began to paint again. When he was finished, there on the canvas was a beautiful picture of a mother, holding a sleeping baby in her arms, smiling lovingly at the child. He thought, "Surely, this is true peace," and hurried to give the picture to the wealthy man. But again, the wealthy man refused the painting and asked the painter to try again.
The artist returned to his studio. He was discouraged. He was tired, and he was disappointed. And anger began to swell inside of him as he felt the rejection of this wealthy man. Again, he thought, he even prayed for inspiration to paint a picture of true peace. Then, all of a sudden, an idea came. He rushed to the canvas and began to paint as he had never painted before.
When he finished, he hurried to the wealthy man and he gave the painting to him. The man studied it carefully for several minutes, as the artist held his breath. Then, the wealthy man looked at him and said, "Now this is a picture of true peace!" He accepted the painting, paid the artist, and everyone was happy.
And what was this picture of true peace, you're wondering? The picture showed a stormy sea pounding against a cliff. The artist had captured the fury of the wind as it blew through black rain clouds which were laced with streaks of lightning. The sea was roaring in turmoil, waves churning, the dark sky filled with the power of the furious thunderstorm. And in the middle of the picture, under a cliff, the artist had painted a small bird, safe and dry in her nest, snuggled safely in the rocks. The bird was at peace in the midst of the the storm that raged about her.
My friends, this peace that the artist portrayed is like the peace that Jesus give us. It is truly the peace of Christ. It is not a peace that the world easily understands. You see, the peace of Christ is not about sitting at the beach or walking in the woods or watching a beautiful sunset. It is not about hearing a comforting song or enjoying a moment rest. It is not about the tender and gentle peace of a mother holding a sleeping baby, though all those things are wonderful!
Certainly, the peace of Christ should bring us serenity and comfort and tranquility, and it does. But it also brings us something much greater than that. The peace of Christ is more than simple freedom from disturbance or conflict. The peace of Christ is something alive and active, something liberating and dynamic. It is life, and love, and joy. It is a gift which both calms and challenges us. It doesn't mean that we will never face pain or suffering, or even death, but it helps us to know that we are never alone no matter what happens around us.
So, brothers and sisters in Christ, as you go out into your busy week ahead, know that you will face difficulties in life. You might struggle and stumble over unexpected bumps in the road. You might find yourself anxious and stressed by the hustle and bustle of the season. Or you might feel upset by the opinions and actions of others. But folks, if you do, remember the candle of peace that we lit today. Remember the child that was born for us, the Wonderful Counselor, the Mighty God, the Everlasting Father, the Prince of Peace. And remember that finding true peace in your life is a choice. It's deciding to put your faith in something bigger than yourself and allowing God to hold you safely in His arms. Because then, like that little bird in our story today, you too will be able to find peace in the midst of any storm.
May it be so, thanks be to God! Amen!