The Temptation of Jesus
Jesus, full of the Holy Spirit, returned from the Jordan and was led by the Spirit in the wilderness, where for forty days he was tempted by the devil. He ate nothing at all during those days, and when they were over, he was famished. The devil said to him, "If you are the Son of God, command this stone to become a loaf of bread." Jesus answered him, "It is written, 'One does not live by bread alone.'"

Then the devil led him up and showed him in an instant all the kingdoms of the world. And the devil said to him, "To you I will give their glory and all this authority; for it has been given over to me, and I give it to anyone I please. If you, then, will worship me, it will all be yours." Jesus answered him, "It is written,

'Worship the Lord your God,
and serve only him.'"

Then the devil took him to Jerusalem, and placed him on the pinnacle of the temple, saying to him, "If you are the Son of God, throw yourself down from here, for it is written,

'He will command his angels concerning you,
to protect you,'

and

'On their hands they will bear you up,
so that you will not dash your foot against a stone.'"

Jesus answered him, "It is said, 'Do not put the Lord your God to the test.'" When the devil had finished every test, he departed from him until an opportune time.

The Beginning of the Galilean Ministry
Then Jesus, filled with the power of the Spirit, returned to Galilee, and a report about him spread through all the surrounding country. He began to teach in their synagogues and was praised by everyone.

Luke 4:1-15 (NRSV)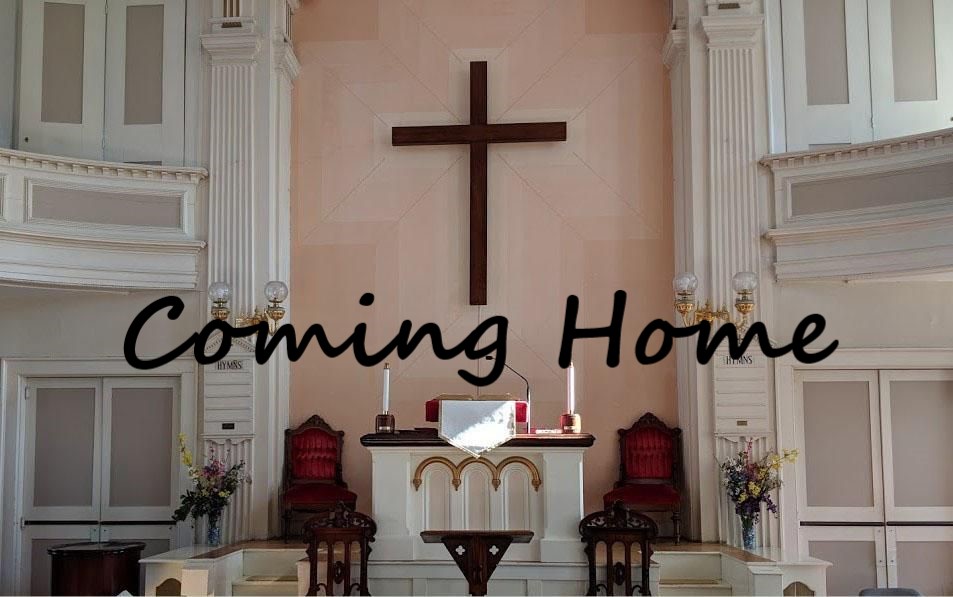 As the season of Lent begins, we often hear this story of Jesus being led by the Spirit into the wilderness or the desert. Had you heard that story before? Well, as we heard, it's a story about temptation, and temptation is when we desire to do something, especially something that we know is wrong.
As the story goes, Jesus is sent into the wilderness for forty days where he is all alone. He has nothing to eat and nowhere to stay, and as if that isn't bad enough, the entire time, he is tempted by the devil. First, the devil tempts Jesus with the promise of food, then with the promise of power and fame. And finally, he tries to get Jesus to put God to the test. All of which, Jesus refuses. Now we may not find ourselves in the wilderness with the devil as Jesus was, but we do face temptations big and small in our lives all the time, don't we? Those Oreo cookies that call us from the cabinet? We know that they are not good for us, but they taste so good! Or that shortcut that you take with one of your responsibilities because maybe no one will notice? Or that scratch ticket at the gas station that you spend your last dollar on because you know you're going to win this time?
Friends I invite you to take a minute with the first sermon box and think about what are the things that you are tempted by?
Jesus, I'm sure, had a much harder time in the wilderness all alone for forty days with the devil than we have in our everyday lives, though the past two years have been quite a wilderness journey for us too. Life has not been easy, and we have faced all kinds of obstacles and stumbling blocks, let alone, loneliness, grief, and isolation. That's why I thought it might be good for us to take a look at what Jesus did, at the end of those forty days when he finally came back from the wilderness. Do you remember that part of the story?
Well, you might imagine that he complained and told everyone about what a difficult time he had. You might think that he gave everyone the play-by-play of how hungry he was, how he had nowhere to stay, and how no one came to help him. You might think that he said terrible things about the devil and tried to get everyone else to hate him. But he didn't! When Jesus arrived back from the wilderness, scripture says, "Coming home to Galilee, he began to teach in their synagogues and was praised by everyone."
Folks, many times, Jesus' most important lessons were not taught through story and word. They were not given as a list of to-dos or preached about on the street corner. Most of the important lessons that Jesus taught were through the examples that he set, and the way he lived his life.
Coming home from the wilderness, Jesus didn't moan and complain. Coming home, he didn't grumble or long for people to feel bad for him. Coming home, he didn't point fingers at the devil and try to get everyone riled up. No! Coming home, he immediately reconnected with the community and got back to business, teaching and healing and praising God!
Folks, we have all experienced wilderness time. Over the last two years, our lives have been turned upside down and inside out. But now. as the season of Lent begins, it's time for us to come home, to reconnect with the community, and to get back to business as we teach and pray and praise God together! Friends, we are not called to forget the past, but we are called to move forward into the future–a new future and a new beginning where possibilities are endless, and hope is eternal.
Coming home, we are looking for new ways to reach out, not only to our own members and friends but also to our community and the world. Coming home, things may look and feel different, but we, my friends, are different too, for we have changed and grown, and we are not the same as we were two years ago. Coming home, we are looking to share our faith journey with one another not only following but sometimes stepping forward to lead as we open our hearts sharing our stories with one another. Coming home, we are looking for God in our midst, experiencing sacred surprises, and feeling the presence of the divine in our everyday lives. And coming home, we are working for the good of all, sharing responsibilities, giving thanks for those around us, and celebrating new ideas and opportunities.
Friends, let's take another break and look at that second sermon box. Take a moment to think about coming home and what it is that you are looking forward to the most.
Friends, coming home is a celebration! It's what we have been waiting and longing for, and instead of just talking about and dreaming about it, it's time to actually do it! And Lent is the perfect time for us to start.
During Lent here in Oldtown this year, we will be taking time to reconnect with one another and remembering what it is like to be the church together in one place. We will be learning once again the importance of listening and sharing, being patient and kind, showing compassion and empathy while we reach out to help guide, support, and encourage one another.
Coming home, we'll meet at the table that Jesus has set for us and share in the bread and cup together. We'll spend time in worship, fellowship, and discussion as we sing, pray, and praise God in community. Friends, I am so glad that each of you is here today because today is the first step of our reconnection and our coming home. May you all know that there is always a special place for you right here in Oldtown!
My friends, may It be so. Thanks be to God. Amen!