FIRST CONGREGATIONAL CHURCH
WELCOME TO OLDTOWN
North Attleborough, MA — December 24, 2019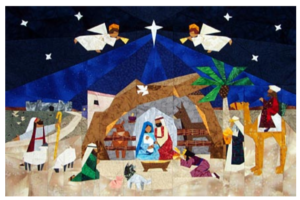 Ministers: ALL of our Members and Friends
Pastor & Teacher: The Rev. Kelly Thibeault
Organist: Mrs. Ellen Kingman
Welcome to the Oldtown Church!
We are so glad that you have chosen to worship with us today. We invite you to join in on the bold print in the bulletin and to stand as you are able any time you see a "*". The restrooms are out the back door of the sanctuary to the right, as is the nursery in case your little one needs a walkabout. Don't be afraid to ask questions, and please join us for coffee and refreshments after worship!
Please remember to mute your devices during worship.
---
PRELUDE
WELCOME
OPENING PRAYER
Carol: "O Come, All Ye Faithful"
O Come all ye faithful, joyful and triumphant
O Come ye, O come ye to Bethlehem
Come and behold him, born the king of angels
Oh, come let us adore him (3x)
Christ, the Lord!
THE LIGHTING OF THE ADVENT WREATH
Tonight, is the night for which we have all been waiting.
Our Advent wreath will now be completed by the lighting of our Christ candle.
"For unto us a child is given, unto us a Savior is born and the order of the world will be upon his shoulders."
With the birth of Jesus, our lives will be forever changed.
We will be transformed by his model and message.
We light this candle to represent that Christ is truly the center of our lives.
GIFT OF SONG—"Christmas Hallelujah"
REFLECTION
THE LESSONS AND CAROLS OF CHRISTMAS
FIRST LESSON: Luke 2:1-5 (NRSV)
Carol: "O Little Town of Bethlehem"
O little town of Bethlehem, how still we see thee lie.
Above thy deep and dreamless sleep, the silent stars go by.
Yet in the dark street shineth, the everlasting light.
The hopes and fears of all the years are met in Thee tonight.
SECOND LESSON: Luke 2: 6-7 (NRSV)
Carol: "Away in a Manger"
Away in a manger, no crib for a bed,
The little Lord Jesus laid down his sweet head.
The stars in the sky looked down where he lay,
The little Lord Jesus, asleep on the hay.
THIRD LESSON: Luke 2:8-16 (NRSV)
Carol: "The First Noel"
The first Noel the angels did say
Was to certain poor shepherds in fields as they lay;
In fields where they lay keeping their sheep,
On a cold winter's night that was so deep.
Noel, Noel, Noel, Noel. Born is the King of Israel.
FOURTH LESSON: Matthew 2:1-2, 5, 8-12 (NRSV)
Carol: "We Three Kings"
We three kings of Orient are
Bearing gifts we traverse afar.
Field and fountain, moor and mountain,
Following yonder star.
O star of wonder, star of night,
Star with royal beauty bright,
Westward leading, still proceeding,
Guide us to Thy perfect light.
FIFTH LESSON: John 1:1-16 (NRSV)
Carol: "Joy to the World"
Joy to the world! The Lord is come.
Let earth receive her King.
Let every heart prepare Him room,
And heaven and nature sing. (3x)
PRAYERS OF THE PEOPLE
SPECIAL MUSIC
(During our special music you are invited to come forward to present an offering in the baskets up front if you feel so moved)
LIGHTING OF THE CANDLES
Carol: "Silent Night, Holy Night"
(During the lighting of the candles we ask that you please do not tip lighted candles.)
Silent night, Holy night,
All is calm, all is bright.
Round yon virgin mother and child,
Holy infant so tender and mild.
Sleep in heavenly peace,
Sleep in heavenly peace.
Silent night, holy night,
Shepherds quake at the sight,
Glories stream from heaven afar.
Heavenly hosts sing, "Alleluia,
Christ, the Savior, is born!
Christ, the Savior, is born.
A READING FROM ISAIAH
Silent night, holy night,
Son of God, love's pure light,
Radiant beams from thy holy face,
With the dawn of redeeming grace,
Jesus, Lord, at thy birth.
Jesus, Lord, at thy birth.
BENEDICTION
SUNG RESPONSE "God Rest You Merry, Gentlemen"
Now to the Lord sing praises, all you within this place.
And with true love and brotherhood, each other now embrace.
The holy tide of Christmas doth bring redeeming grace.
O tidings of comfort and joy, comfort and joy.
O tidings of comfort and joy.
* Please extinguish your candle before leaving the sanctuary *
Thank you for joining us for Christmas Eve worship tonight!
May you be filled with hope, love, joy, and peace,
this Christmas and always!
---
First Congregational Church, UCC of North Attleborough
(Oldtown Church)
Church Phone: 508-695-1713 — Pastor Kelly's cell phone: 508-294-9767
Office Hours: Tuesday & Thursday, 10 am – 2 pm
Pastor Kelly's email: PastorKelly@oldtownucc.org
Church Email: Church@oldtownucc.org
Website: www.oldtownucc.org